Döhler Holland invests in safety with hose inspections
A small crack in a hose where bacteria accumulate, which goes on to contaminate an entire batch of foodstuffs. Or an industrial accident as a result of a hose breaking during the cleaning process. These are the biggest nightmares of food producers. Fortunately, this will not happen at Döhler Holland. The company has its food hoses inspected on site by the ERIKS Field Service Team. By outsourcing this, Döhler not only saves time, money and personnel every year, but above all fulfils its duty of care.
Döhler Holland specialises in the supply of high-quality semi-finished products for the food and beverage industry. On a 15-hectare site in Oosterhout, natural ingredients, such as fruit juice concentrates, are processed for fruit juices, lemonades, soft drinks and liqueurs, among others. The factory has a closed system and the concentrates are transported from tank to tank via food hoses.
Döhler Group is one of the largest producers of natural ingredients for the food industry in Europe. This means that it is hardly ever quiet in the factory. The work is coordinated like a well-oiled machine, and batch after batch rolls off the conveyor belt according to a structured schedule. Of course, an unexpected production stoppage is never acceptable, not in any company. After all, inactivity costs money. But at Döhler, it is utterly out of the question. Due to high production volumes, it is impossible to make up for a lost batch if something does go wrong. All the more reason to put maximum effort into quality control and safety. That is why Döhler invested in hose re-inspections by the ERIKS Field Service Team.
Focus on the essentials
Why outsource the inspection of hoses if you can keep things in-house? Carel Schilders, technical planner at Döhler Holland, believes in the added value of outsourcing. He is in charge of planning preventive maintenance and weekend work. If something goes wrong, it demands his immediate attention and other matters are shifted to the background. "We want to have the capacity to take immediate action when needed to avoid downtime."
"We can then focus on what has the highest priority at any particular moment. Moreover, we live in a time where technical staff is very hard to find. It is a typical job that can be outsourced. It is a bit more expensive than doing it ourselves, but we gain a great deal of professional support."
Sustainable approach
Having hoses re-inspected has more advantages than just taking work off your hands. For example, it also contributes to a sustainable strategy. A common aspect in the industry is the replacement of hoses after a fixed period of time. However, this has a major drawback: a perfectly functioning hose may end up being replaced too soon. The ERIKS Field Service Team inspects hoses from the outside and inside. By precisely measuring, knowing and recording the condition, the life span of a hose is optimised.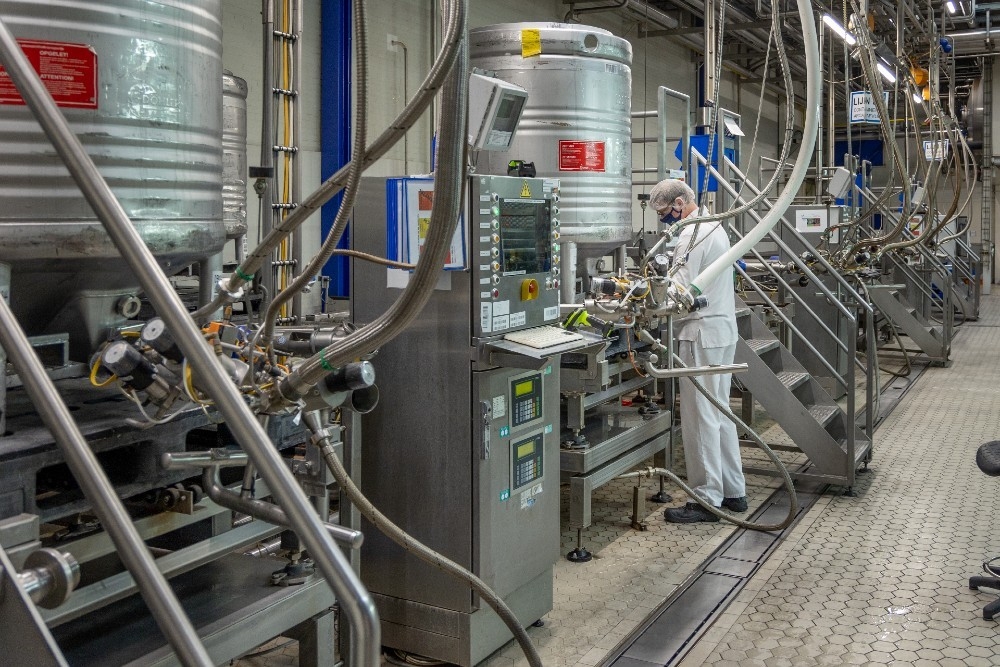 The same applies the other way round: an apparently good hose can have a small hairline crack on the inside. This crack will probably not cause problems immediately, but in time bacteria will accumulate, resulting in contamination of the end product. Companies that inspect hoses themselves will find this out too late. The damage will be done, and a complete batch will have to be disposed of. Sustainability is also very important at Döhler - we don't like to throw things away. With ERIKS we can prevent that from happening. And it does not stop there, because it is not just a question of producing a new batch. According to Carel, the impact can quickly add up: "In our case, we would not only lose the product, but something like this would have an impact on many fronts. For example, if there were scarce raw materials in that batch. We would then have to make them again, or have them delivered by courier. We may have insufficient space, planning and logistics, or it costs a lot of money. Many people will have to devote their time to it again. Compared to this, re-inspecting hoses is peanuts."
All information in one place
All hoses used by Döhler are inspected by the ERIKS Field Service Team. We carry out complete inspections and check for established test pressures, usually double the maximum working pressure. After the test, we issue a certificate with the test results. Moreover, everything can be found in our hose registration system (the Hose Management System). This shows the current status of the hoses. It is also possible to link the EC 1935/2004 certificate to it. This can come in handy during an audit, for example, because you can find and deliver all the necessary documentation quickly and easily.
The hose registration system also offers a handy solution for Philip Grootjans, Hose Application Engineer, Accessories and Compensators at ERIKS. He has been with Döhler for years and is the contact person for hoses. "I get feedback on all the approved and rejected hoses in the system. If I see that a hose, for example, is rejected more often than average, I will look into why. I know the installation and know how the hose is used. We will then look for a solution together with Döhler to extend the life of the hose. Consider, for example, an application with swivels that prevent the hose from twisting.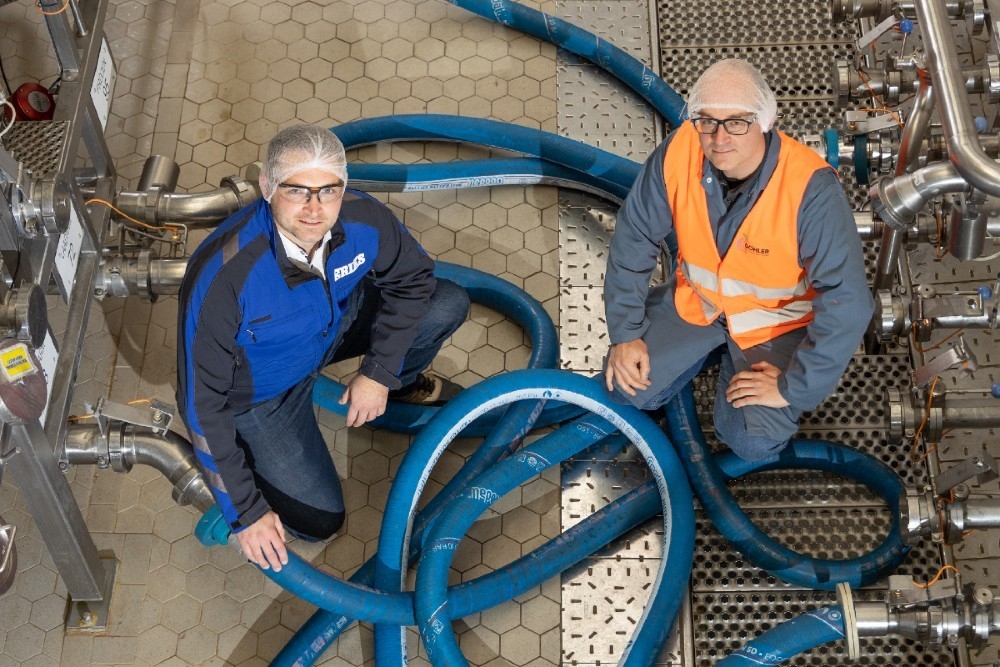 Philip Grootjans - Application Engineer at ERIKS (left) and Carel Schilders, Engineering Work Planner at Döhler Holland (right) present on site at Goodall Nutralon food hoses.
Fulfilling the duty of care
By having hoses re-inspected by the ERIKS Field Service Team, Döhler also fulfils its duty of care. The use of hose maintenance is covered by the Pressure Equipment Directive (PED). For a number of years now, legislation has referred to this directive and stated that the user has a duty of care. The NPR 5527 states why, how, at what pressure and how often various hoses must be re-inspected.
Philip: "Often, only the product flowing through a hose is considered. But that is not the heaviest load for a hose. That is the cleaning process. Increasingly, a shorter cleaning process is chosen whereby a higher temperature and a higher concentrate is cleaned. That is the heaviest load and at the same time the most dangerous. A hose that ruptures during a cleaning process can cause a very serious industrial accident. As an employer, you have a duty of care to protect your employees from danger. This includes the materials they work with. By re-inspecting hoses, you can be sure that the hoses show no defects and are safe to work with."
Trust in quality
Jaap Struyk, Maintenance Manager at Döhler, also takes the duty of care very seriously and looks at things from an even broader perspective. "Everything we do in the factory and the products that leave it must be safe. For me, that falls under the duty of care. We have a responsibility to our staff and to the end user. So we must be able to trust a hose 100%. In addition, our hoses are located at a late stage in the production process. That means there is no more inspection by magnets or sieves. It is the last step before the product goes to the customer."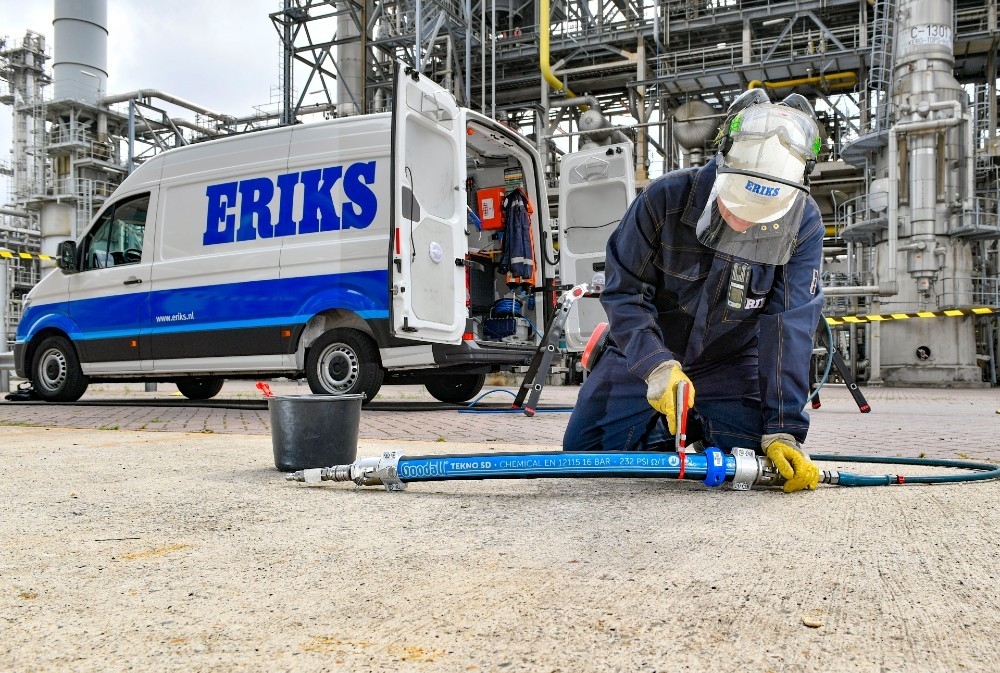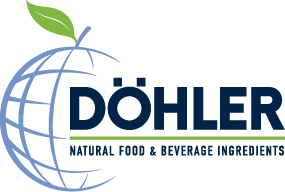 General contact ERIKS Group Head Office
Post address
ERIKS NV
P.O. Box 19108
3501 DC Utrecht
The Netherlands
E info@eriks.com

Chamber of Commerce
37 01 32 89
VAT Number
NL003.076.490.B02