Essential Checklist for Selecting a Food Grade Hose Assembly
Transferring liquids between tanks or vessels, filling food processing equipment or delivering ingredients to mixers or blenders–these are all common applications for a hose assembly in the food industry. To ensure that they do not contaminate the food being transported, these hose assemblies are designed to meet strict industry standards for cleanliness and hygiene.
Selecting the right hose assembly for your food grade application is crucial to ensure safety, compliance, and optimal performance. Here we will review the five main factors to consider in your selection process.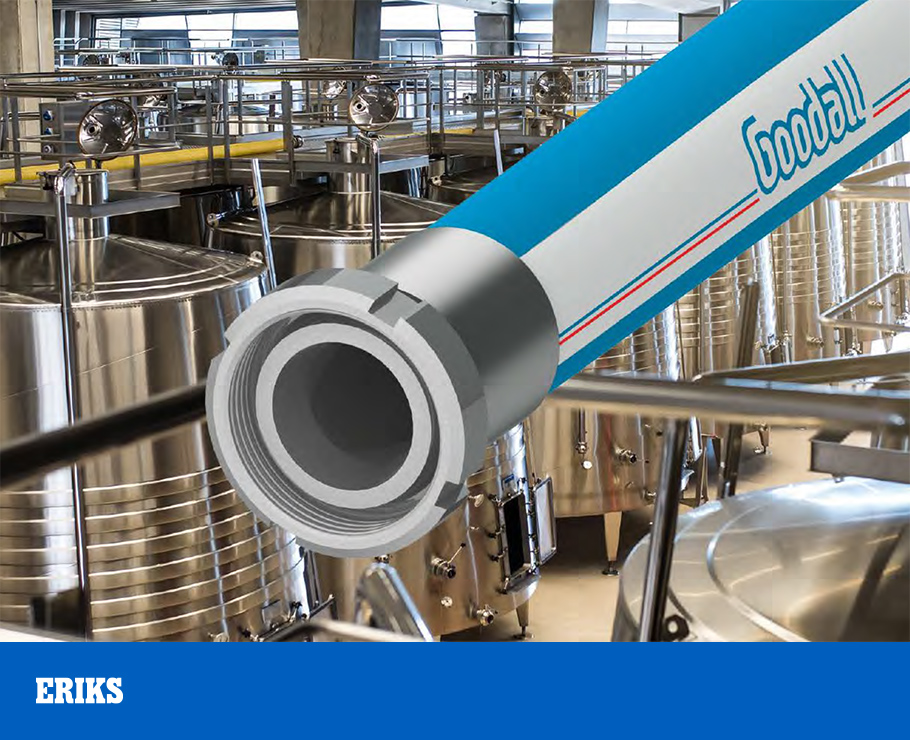 Material compatibility
Ensure that the hose and fittings are made of materials that are compatible with the food or beverage being transported. Also consider any application-specific requirements such as abrasion resistance, flexibility, or chemical resistance during cleaning, and choose a hose assembly that meets those needs.
For instance, make sure that you are aware of the chemical tolerance of the material, especially in a food-safe environment. ERIKS has developed a tool to help you select materials with the best resistance to your fluids, in combination with the temperature of the application:
View the ERIKS Rubber Chemical Resistance Guide.
Food-safe hoses characteristics per material
In the food industry, hoses tend to be made of PVC, PTFE, Polyurethane, NBR or EPDM rubber. See below the main characteristics of these materials.
PVC hoses
These hoses are typically used for light-duty applications and are compatible with water, air, and some low-concentration acids and chemicals. However, they are not recommended for use with greasy foods or high-concentration chemicals.
Temperature range from -20°C to +60°C.
Transparent, light and usually very flexible.
Resistant to limited operating pressure and temperature.
 
Our advice: choose the Premium Multibar or the Polymetra Clear. These are the most basic PVC hoses available according to EC1935/2004.
Polyurethane hoses
These hoses are more durable than PVC and are compatible with oils and some chemicals. They are also suitable for use with food grade fluids like milk and juices as well as abrasive powders and granules.
Temperature range from -40°C to +90°C
Highly resistant to oils.
Also available in antistatic quality.
Not suitable for applications with demanding temperatures. Briefly up to 125°.
 
Our advice: Choose either Abraflex MD Food or Abraflex MD Food AS-INOX. In our opinion, these are the best hoses for the food industry, especially for powders.
PTFE hoses
Highly suitable as supply hoses for filters and centrifuges, for drying towers and when using fragrances and flavourings.
Temperature range of -70°C to +260°C.
Resistant to applications that place high demands on temperature, pressure or movement.
Very resistant to chemicals and easy to clean.
 
Our advice: Choose smooth hoses, corrugated hoses or externally corrugated hoses.
NBR rubber hoses
Oil and grease resistant. Therefore, NBR hoses are well suited to milk, cream, vegetable oils and mayonnaise. Very suitable for soft drinks.
Temperature range from -30 C to +100°C.
Can also be used as loading hose.
 
Our advice: choose Nutralon, Nutralon SD Lite or the Nutralon SD. These are quality hoses with good performance.
EPDM rubber hoses
Suitable for beer, soft drinks and wine.
Temperature range from -40 to +120°
 
Our advice: choose DeliDRINK SD, DeliDRINK SD Lite or Vintage SD Lite. These are quality hoses with the best performance. Ask about our DuraCrimp press-on couplings for a safe and hygienic connection.
Stainless steel hoses
Stainless steel hoses are rarely used in the food industry. This is because they have a corrugated inner lining. This is not easy to clean. However, sometimes only a stainless-steel hose will do, for example, in applications with high temperatures (up to + 600°C). For this, we recommend GOODALL MetalVisor stainless steel hose. Stainless steel hoses are mainly used for water and steam applications in the Food industry.
Temperature range of -196 °C to + 600 °C.
Resistant to high temperatures. Resistant to high pressure.
Standard stainless-steel hoses are difficult to clean because of their parallel corrugated inner lining.
Not suitable for absorbing vibrations.
It's important to note that not all hoses made from the same material will have the same compatibility with fluids and foods. Always consult the manufacturer's specifications and recommendations to ensure you are using the correct hose for your application. You can also contact our specialists for application-specific advice.
Temperature range and pressure rating
Another crucial criterion in your hose assembly selection is the temperature range of the application. Choose a hose assembly that can withstand the extremes of the required temperature range. Some materials may break down or become brittle when exposed to high or low temperatures, which can affect their performance and safety. The hose material should also be able to withstand the temperature range of the application without leakage. Exposure time is also important here! Some hoses can handle very high temperatures for a short time but not for long.
Determine the maximum pressure the hose assembly will be exposed to during use and choose a hose that can handle the pressure without bursting or leaking.
Installation properties
Consider the amount of space available in the installation and choose a hose with an appropriate bend radius to prevent kinking, which can lead to product loss and contamination. The hose must be flexible enough to allow for easy installation and maneuverability in tight spaces and around equipment. The length and diameter of the hose should be selected based on the distance between the connection points and the flow rate needed for the application.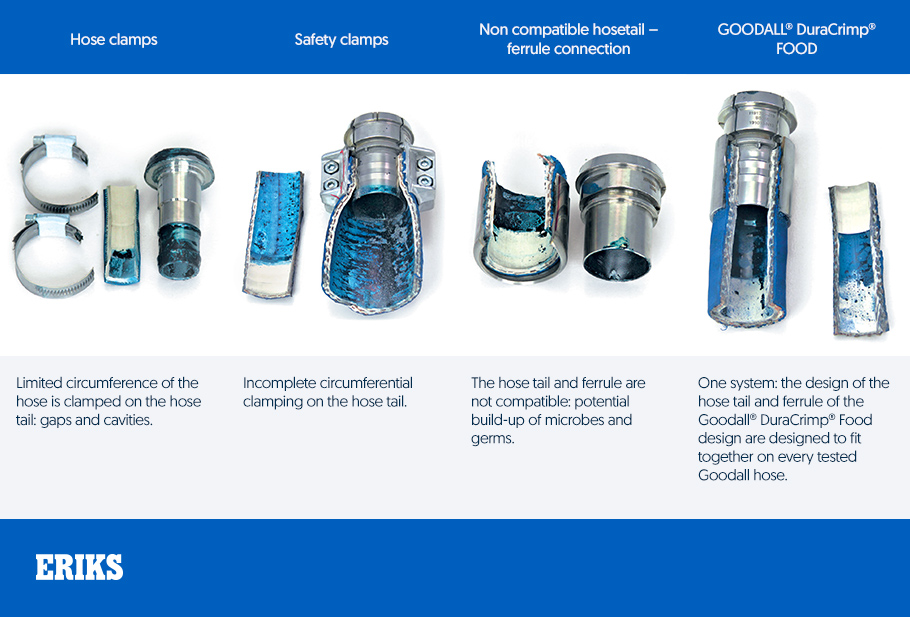 Couplings for food-safe hoses
One critical aspect of food safe industrial hoses is the connection between the hose tail coupling and the tube of the hose. This connection must be seamless, hygienic, and free from any leaks or contamination. Goodall® DuraCrimp® FOOD is a crimping system developed by ERIKS for the food industry. It consists of Goodall® food grade hoses and custom designed hose tail couplings and ferrules, ensuring a seamless and hygienic connection.
The combination of hoses, couplings, and ferrules undergoes intensive testing, including burst pressure tests and hygienic sealing tests. A new test procedure, HCST, was specifically developed for the food industry. A blue-colored fluid is pumped into the hose at the maximum working pressure of the hose assembly for seven days. After the test period, the hose tail is carefully removed to check the tightness and sealing quality of the connection. The results are excellent compared to other assembly techniques and compliant with international and European food safety regulations.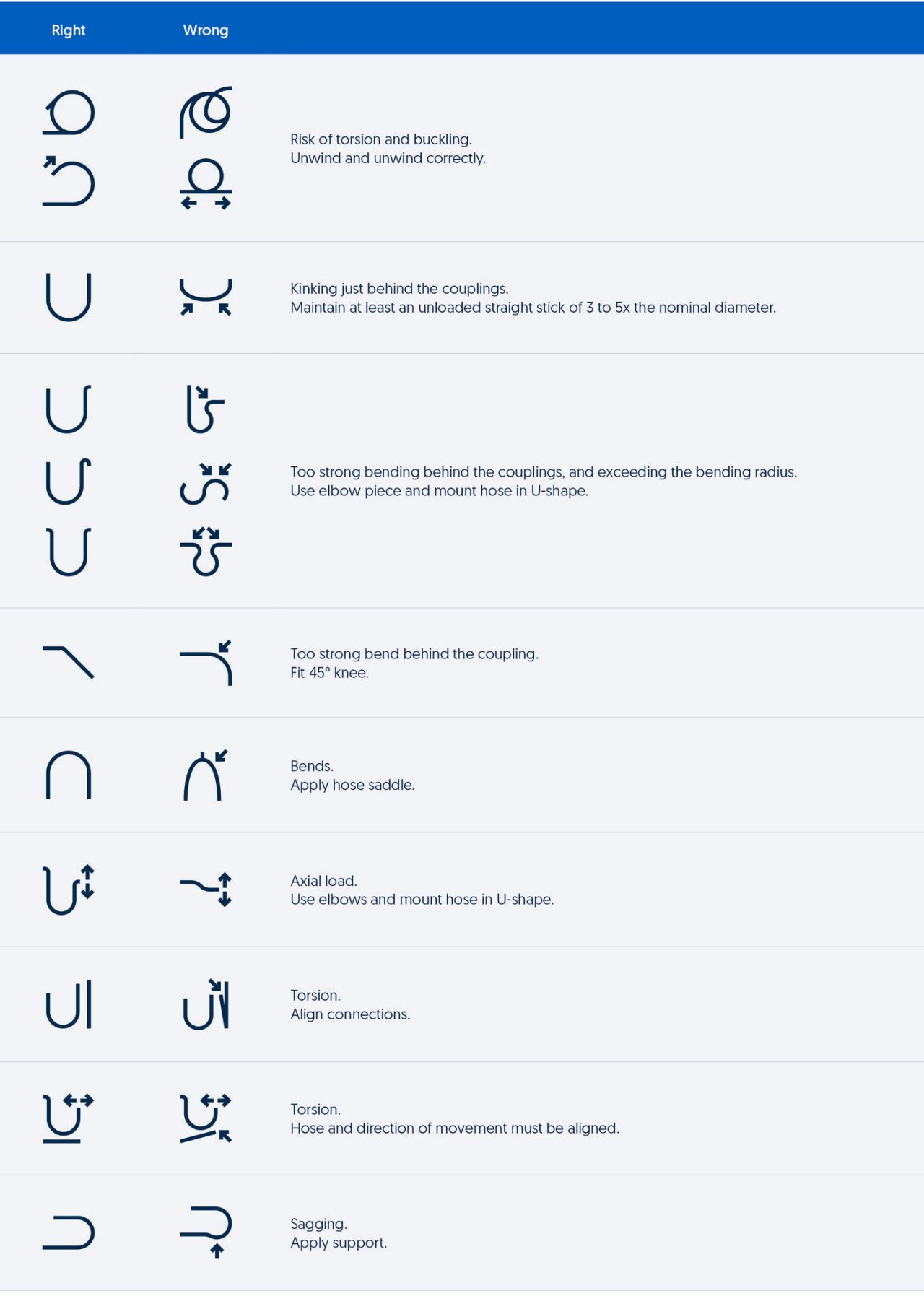 Regulatory compliance
In the food industry, safety is a top priority. Every aspect of the production process must be scrutinized to ensure that the food produced is free from contamination and safe for consumption. This includes the hose assemblies used in the production process.
Goodall®'s food quality hose assortment has been developed according to the most stringent international and European standards. All food quality material compound components are mentioned in the substance lists of the European Regulation 1935/2004 on food contact materials.
Compliance with these regulations ensures that products do not transfer their materials to processed food to such an extent that it may endanger the health of people, cause unacceptable changes in the composition of the food, or lower the organoleptic properties of the processed food. Good Manufacturing Practice (GMP) is applied according to the regulation EC 2023/2006 when marking products with a food quality label. For more in-depth information on food contact material policies, read our guide to the Regulation EC1935/2004.
In addition to compliance with regulations, hose assemblies used in the food industry must also be mechanically strong and resistant to cleaning agents. Goodall® DuraCrimp® FOOD hoses have high resistance to CIP cleaning agents and improved ergonomics for operators, making them easy to handle and clean. Moreover, no leaks occur during CIP cleaning cycles, which results in less waste and support a long-term sustainable solution.
Would you like more personalised advice on selecting a hose assembly suitable for your application? Or would you like to know more about guaranteeing food safety? Contact us for a free food safety consultation. Our application engineers can also advise on the best solutions on site